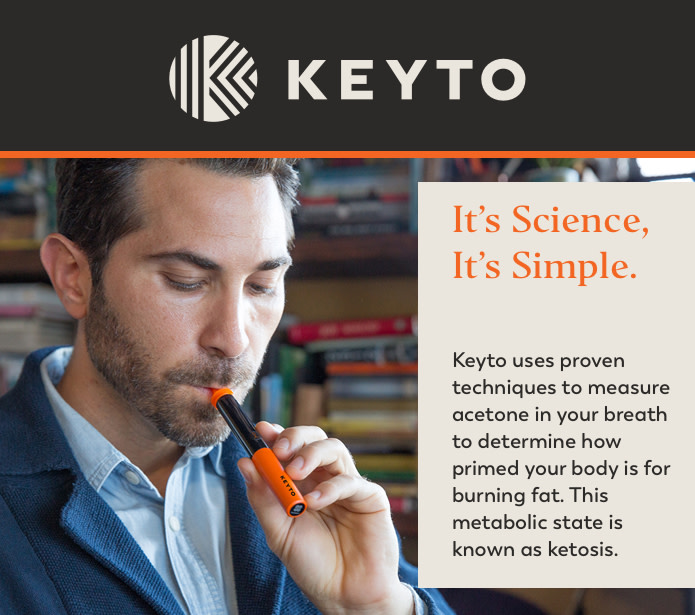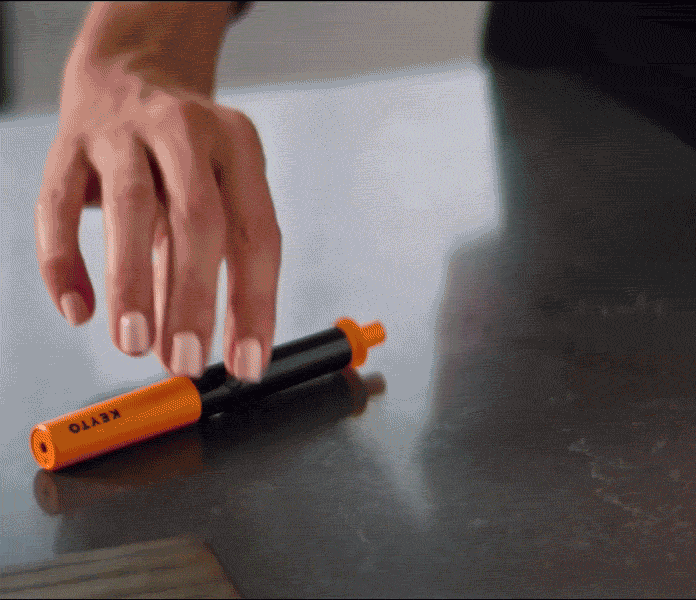 It's One Breath To A New You.
Keyto improves and simplifies the tracking of ketones – changing a messy, intrusive, and painful experience into one you'll be excited about. We break down the science, so your body can break down the fat!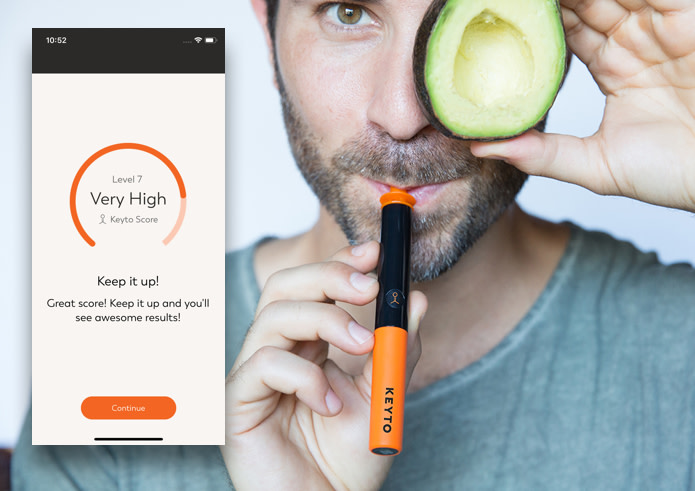 It's As Easy As A Simple Keyto Level
Acetone? Ketones? PPM? IIFYM? Forget it all. All you need to know is your Keyto Level, ranging from 1-10, and you'll know how well you're doing and how to adjust your diet to get the results you want.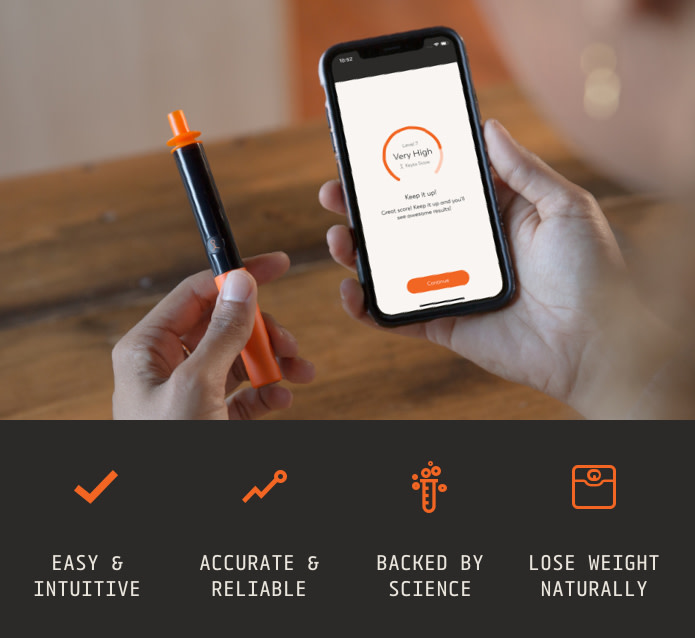 Recently Featured In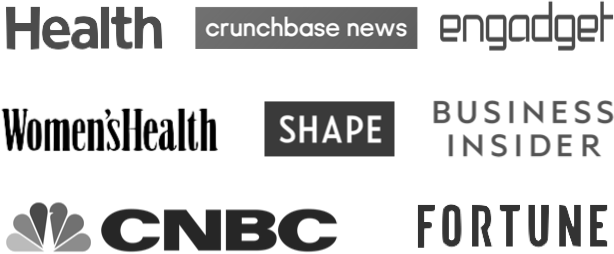 Review by Christina Farr of CNBC
Just Three Simple Steps
The ketogenic diet is a science-backed way to lose weight while eating the foods you love. Keyto simplifies the complicated ketosis tracking process into just three easy steps.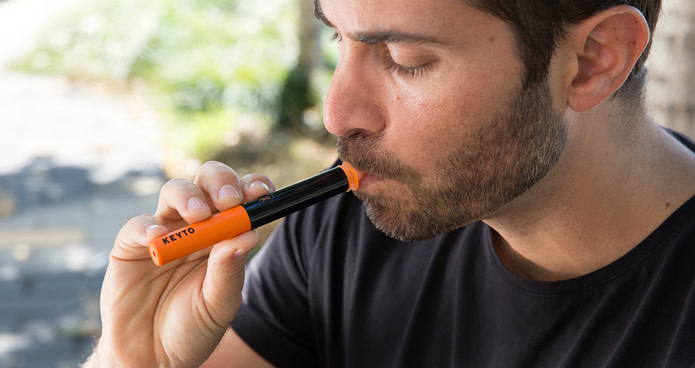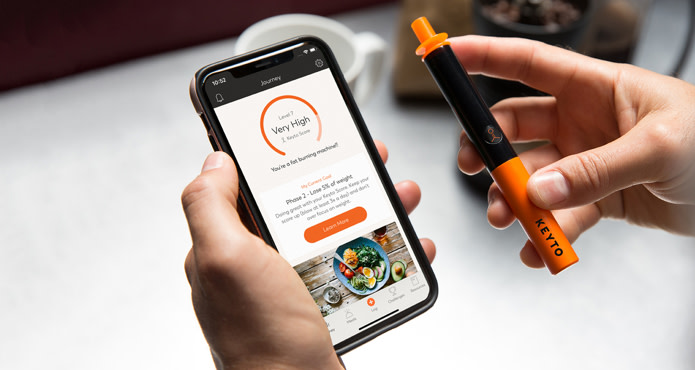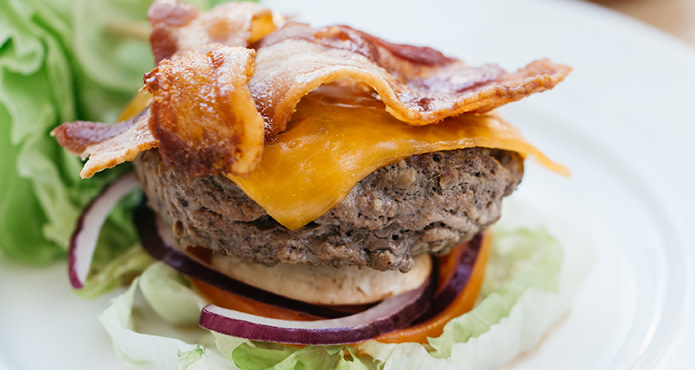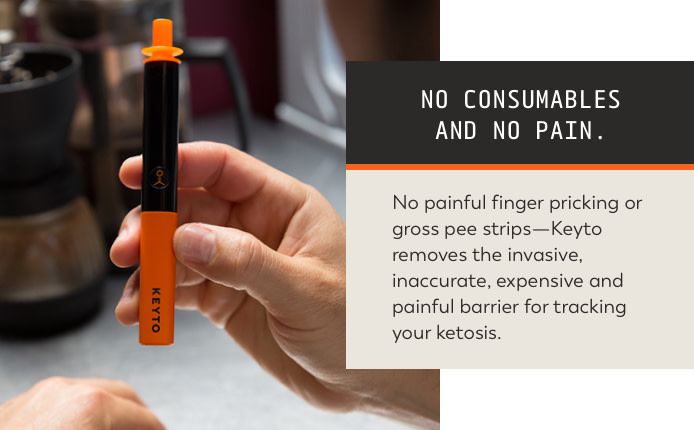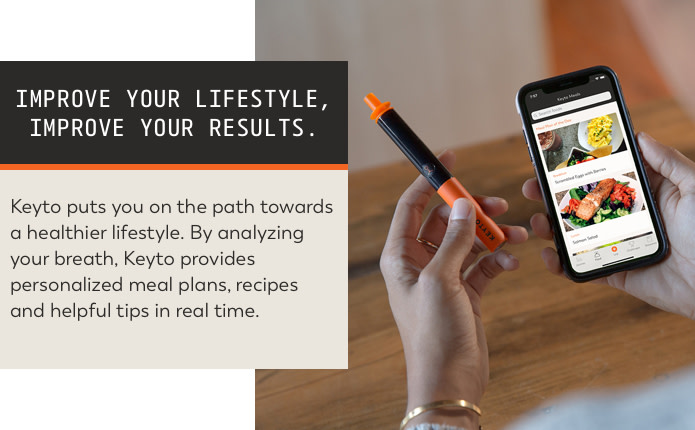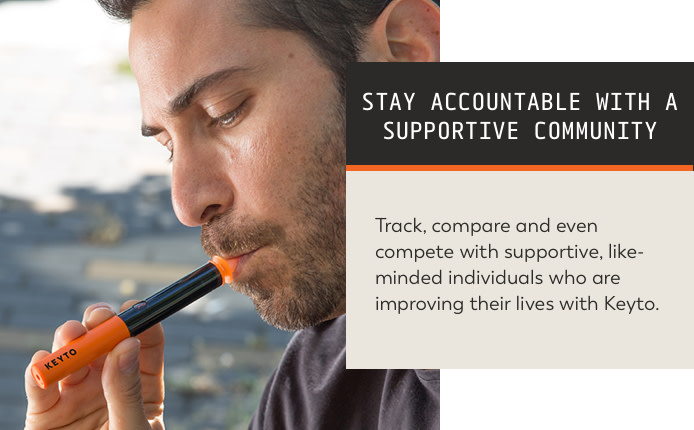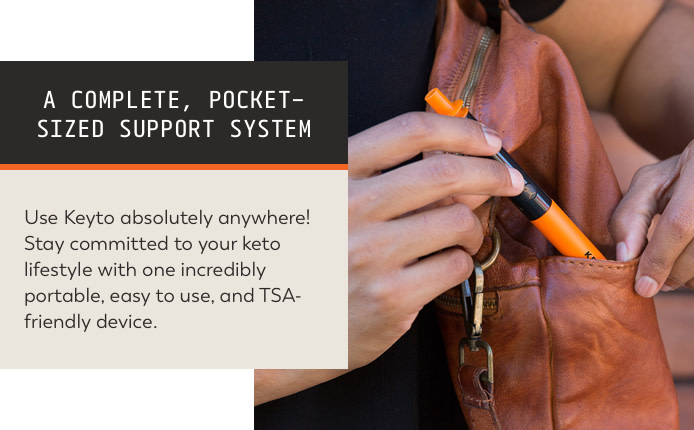 For more information on how Keyto works, take a look at our full explainer page!
Backed By Science, Proven By Results
The science-backed, tried and tested Ketogenic Diet restricts carbohydrates intake and requires high fats and moderate proteins consumpton.  Benefits include weight loss, boosts of muscle endurance, fewer hunger pangs and increased energy.
A JMIR Publication Study conducted over 10 weeks with 238 users reported weight loss by the end of the study of up to 17% of their starting body weight while on a ketogenic diet.

 
YES, PEOPLE HAVE REALLY LOST WEIGHT WITH HELP FROM KEYTO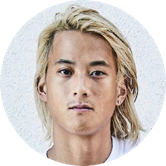 "We all know changing behavior is the hardest thing to do, but I've seen Keyto do it with myself and my friends. I lost 23 lbs in 6 weeks with Keyto. I'm a believer."
Tim Wu (Elephante) – Musical Artist
The Keyto App Is Your New Keto Friend
Keyto is your gateway to our rapid-feedback, intelligent-suggestions platform that supports your health and weight-loss goals.
Community Accountability
Communicate and compete through message boards and public/private challenges.
Instructional Videos
Know exactly how to adjust to your new and improved ketogenic lifestyle with tips from Dr. Ethan Weiss and other leading health and wellness experts.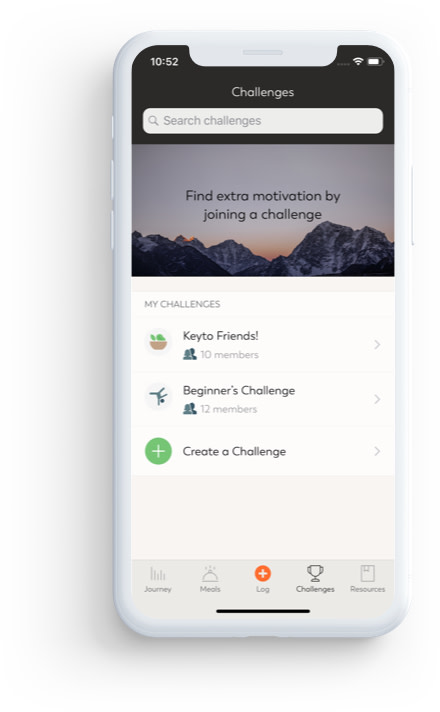 Keto-Friendly Recipes
Easy-to-prepare, delicious recipes are just a tap away.
Know the safe foods.
Access our complete database of the most common foods, all with a clear keto-friendly rating. Trust the foods you are eating in real time.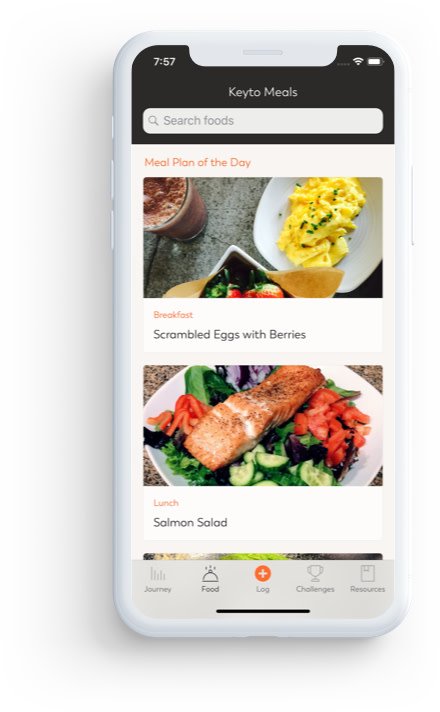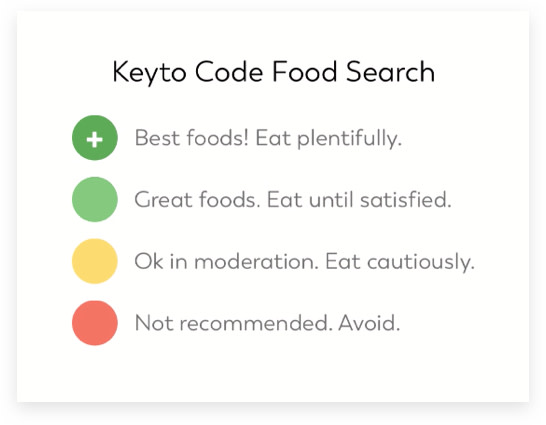 Tracking Ketosis Isn't New.
But Our Approach is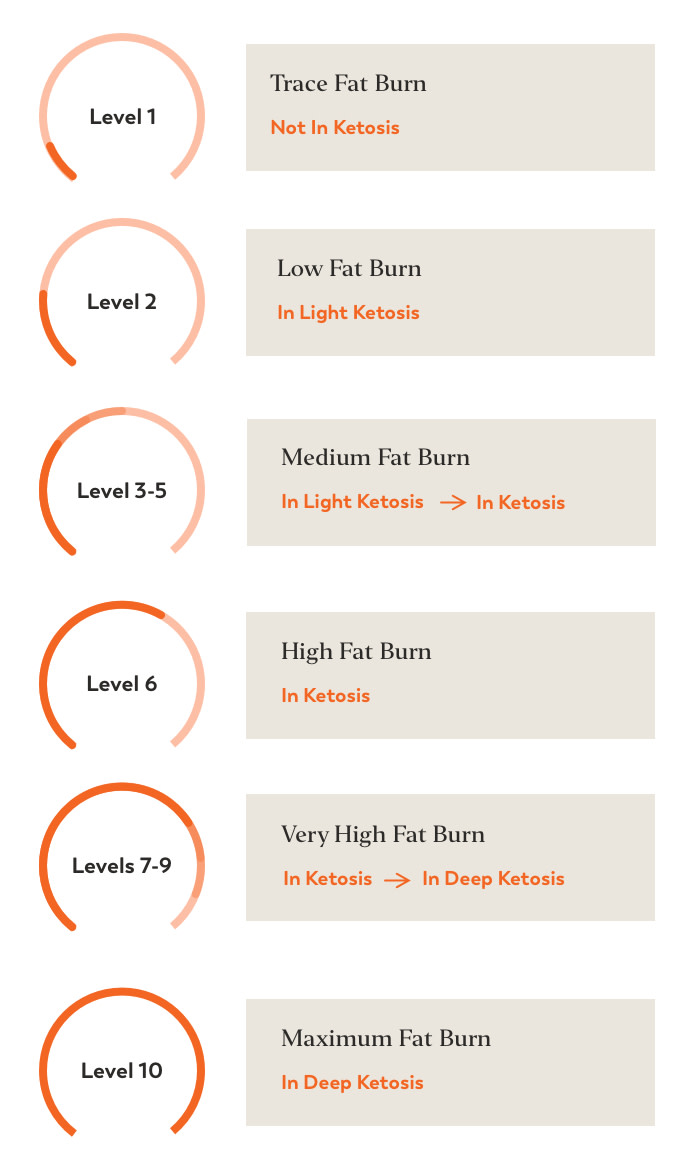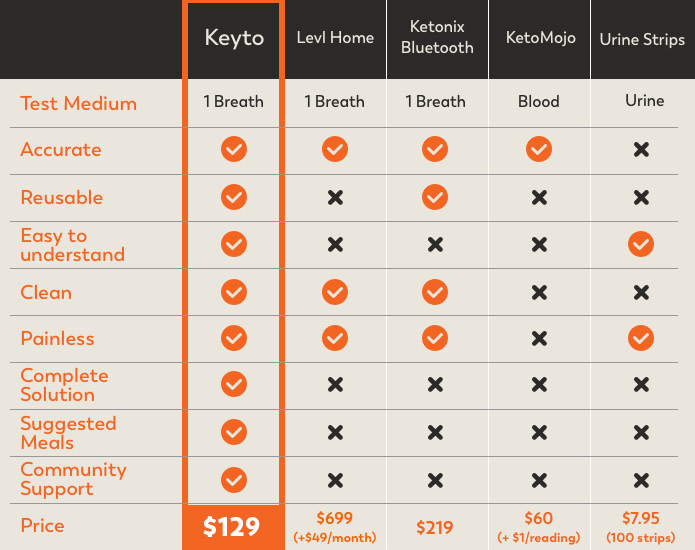 What's In The Box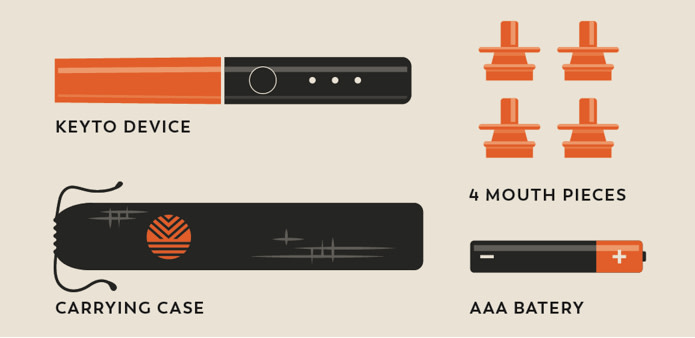 Select the Keyto Pack that's right for you
IT PAYS TO SHARE
Click to get your own referral link.  Get 10% cash back for each pledge you refer.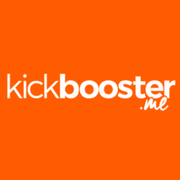 Reviews From Real Testers
Undeniably Simple Set Up
Just three simple steps to your first ketone reading: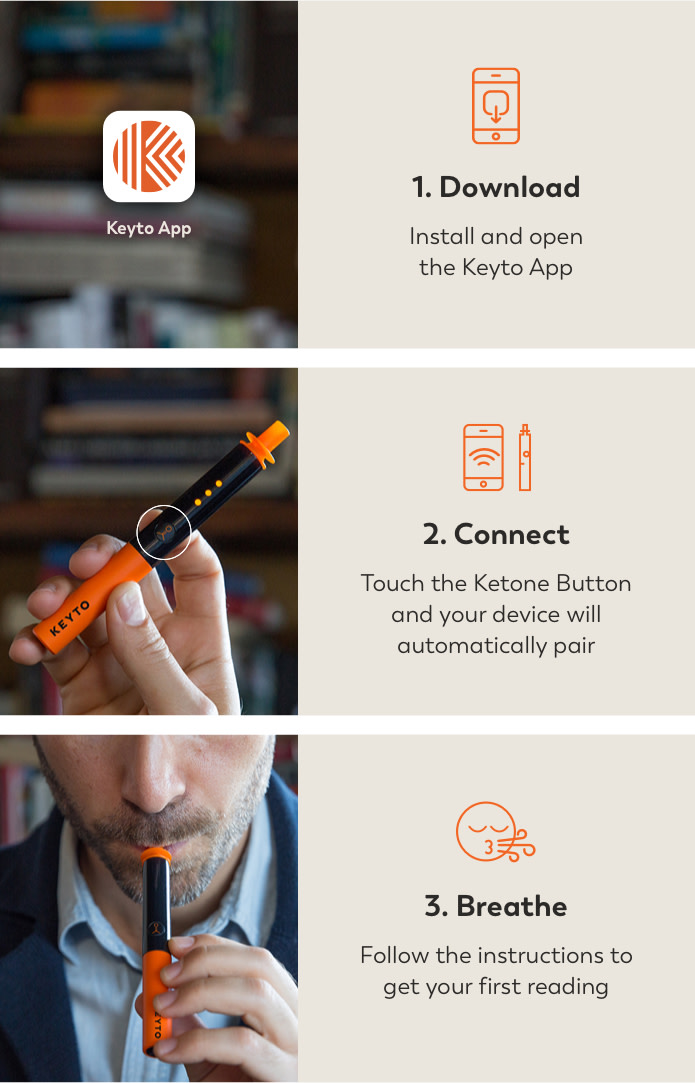 Tiny Technology. Tiny Price.
Keyto uses a proprietary acetone-selective nanosensor integrated into a unique design optimized for breath delivery.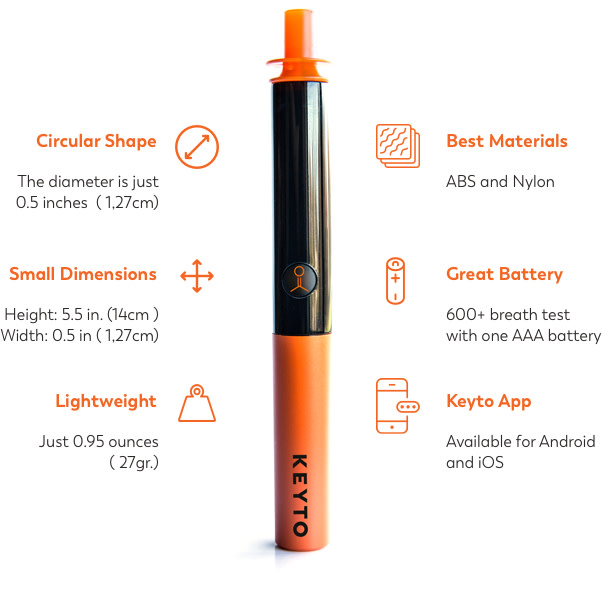 The Product Team Hard At Work
Our designs have been tested and proven. We have been working on perfecting the technology to get it ready to bring home.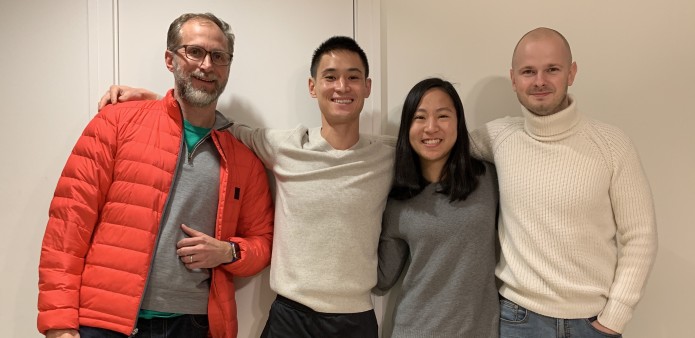 Dr. Ethan Weiss has been passionate about health since a young child, growing up around a cardiologist father. He eventually went on to attend Vassar College before moving on to medical school and residency at John Hopkins. He came to UCSF in 1998 to complete his clinical and research fellowships in cardiology and has remained on the faculty since then. Dr. Weiss has maintained an active clinical practice with expertise in the emerging intersection between endocrine and metabolic disease and cardiovascular diseases. He is a leading authority on novel tools to predict and prevent cardiovascular disease and has special interest in using technology as a tool to enable lifestyle changes.
Dr. Weiss maintains an active research program that focuses broadly on regulation of metabolism. His lab spans from basic biology exploring how hormones interact to regulate metabolic processes all the way to running randomized clinical trials to assess the impact of nutritional interventions. Throughout his 20 year career, Dr. Weiss has published papers in the best scientific journals including the New England Journal of Medicine, Nature, Journal of Clinical Investigation, and many others. He maintains robust grant support and has had funding from The NIH, AHA, ASH, as well as private foundations and other organizations. Recently, he has made it his life's work to help the world live healthier through a combination of mindful living, exercise, and healthy eating. As the Co-Founder and Medical Advisor for Keyto, Dr. Weiss has been at the forefront of helping to make sure that Keyto's proprietary technology lives up to Keyto's personal health promise.

Prior to founding Keyto, Ray was the founder of Weilos, a social weight loss startup that was acquired by Weight Watchers in 2015. Weilos was renamed WW Connect which powers social networking in the Weight Watchers app, and serves as the digital alternative to in-person meetings to inspire millions of people around the world today.
Before Weilos, Ray graduated with honors from the MD/MBA program at Cornell, and was a consultant at McKinsey & Company where he focused on healthcare.

Liane was Chief Engineer on WW Connect, an online community for weight loss support. Emboldened by the amazing, positive remarks she received there, she wants to continue her journey to help others be their best selves. In addition to being a Co-Founder of Keyto, she also leads Engineering and Product Development. Liane is looking forward to releasing a Keyto experience that is easier, better, and more fulfilling than any other ketosis solution before it!

Gareth Everard comes to Keyto after success in creating multiple seven-figure consumer brands. He thrives as a Co-Founder that brings people the products they don't just want, but need. As a leader in User Success and Product Development, he is our go-to guy for ensuring that Keyto, the experience, is as polished as Keyto the device. Gareth is currently leading the charge of the Keyto end-user experience. 
We Are On Track To Deliver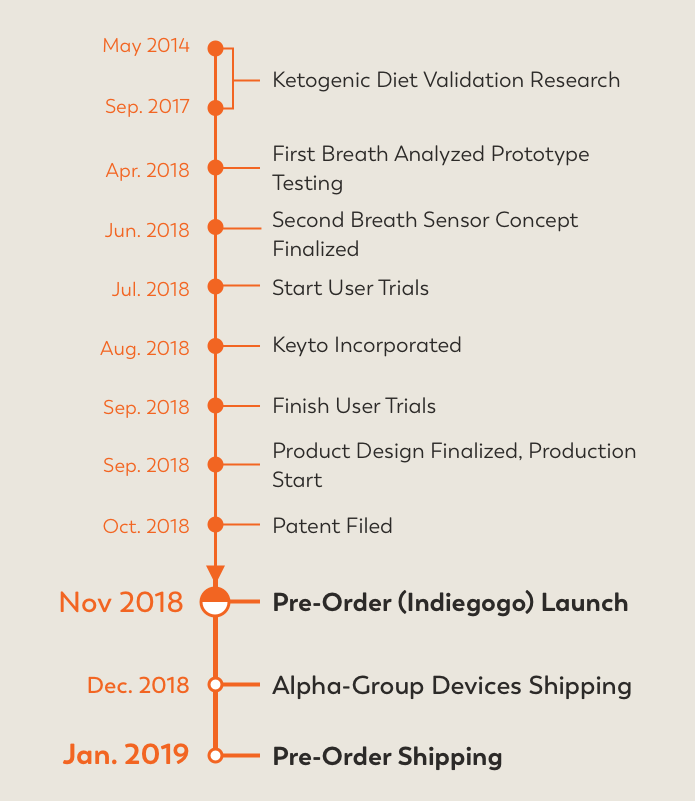 Why Order Now?
By backing now you'll get to own one of the very first products off the line plus exclusive access to provide valuable feedback that will shape future generations of the product.

Where We Ship
We are able to ship worldwide. VAT and GST not included. Please see reward details for the shipping cost that applies to you.

When We Start Shipping?
We plan to ship the product in January 2019. We will keep you up to date on our progress and the expected delivery date of your order.     *Actual ship dates may vary. We will keep you notified of your product ship date.
Bring Keyto Home!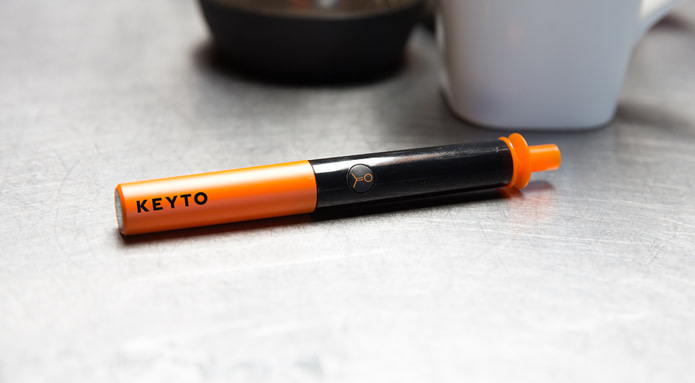 Help Out By Sharing With Friends!
Tag a Facebook friend

Don't keep it a secret

Share in your subreddit

Add it to your board



Questions?  Back this project and post a comment or question here or contact us directly at hello@getkeyto.com.